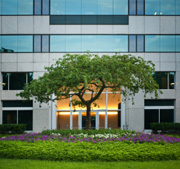 From the Frank Anemone Landscape team located in Prospect Heights, your property receives complete landscape maintenance based on superior workmanship from professionally trained crews.
We serve Chicago's northwest suburbs with a total-care approach to commercial landscape maintenance. This approach helps to reduce costs for our clients by providing bundled services for convenient, worry‐free maintenance.
We strive to consistently exceed customer expectations through rapid response time, 24/7 customer service availability, and superior workmanship.
Click here to view a detailed outline of the services offered in our annual program.
Weekly lawn mowing and manicuring
All curbs, walks and drive edges will be edged with a power edger periodically throughout the season to maintain a clean look.

All mowing equipment is kept in good repair with safety features intact. Lawn mowers are operated in a manner that prevents damage to trees, shrubs, and other property.
Complete lawn fertilizing and weed control applications
Performed by licensed pesticide applicators
Protects lawns against weed infiltration and helps them grow greener, more vibrant turf
Perennials maintained for maximum growth and beauty potential
Regular grooming for a neat appearance
Groundcover kept at proper height through pruning
Hand weeding when necessary
Debris removal on lawn and plant beds
Plant beds and tree rings edged
Pre-emergent herbicide is applied to control weeds
Broken or damaged branches in trees and shrubs pruned
Turf cut at final height of 2" before winter
Contact us now or call 847-299-0406 to set up a consultation with our landscape sales representative.
Serving the northwest suburbs including Arlington Heights, Glenview, Mount Prospect, Park Ridge, Prospect Heights, Northbrook, Niles, Skokie, IL.