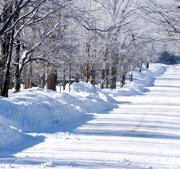 Premium snow removal service by Frank Anemone Snow Services, Inc. means that your employees, customers, residents, and suppliers arrive safe and sound. Anemone Snow Services, Inc. clears the way for you to conduct business while others are still digging themselves out. Parking areas, access roads, walkways, and entrances get immediate and constant attention throughout snow emergencies with one of the largest Chicagoland assembly of snow removal equipment, manpower, and training. We have full-time certified snow professionals that manage your account 24 hours a day, 7 days per week.
Many companies plow snow as a secondary service to compliment their "primary" business. Unfortunately the customer usually ends up learning the hard way when their lot or walks are not plowed, salted properly or provide timely service during daytime snowfalls when the contractor is out working on their "primary" business.
Click here to learn more about our Snow Removal Services.
Our snow equipment far surpasses any snow removal service providers' in the Chicagoland. We are equipped to deploy numerous amounts of equipment during any snow event. We focus on utilizing the latest state of the art equipment for providing the most efficient service possible.
Frank Anemone Snow Services, is the leader in Chicagoland commercial, corporate, and industrial snow removal and ice control management. We have established relationships with some of the largest corporations and property management companies.
With a large fleet of company owned trucks and equipment, Frank Anemone Snow Services, can successfully complete any snow removal operation regardless of the size or level of difficulty.
Frank Anemone Snow Services, Inc., takes a proactive approach to the winter season. Well before the temperature drops we work with you to formulate a comprehensive snow and ice management plan, tailored to your site. Longevity and superior service has made Frank Anemone Landscape a leader in the snow removal industry.
Specializing in
Zero Tolerance
, we have earned a solid reputation of providing timely and quality service with the standard safety for customers, tenants, and employees in mind. Our command center will always be on call 24 hours a day. Your
satisfaction is achieved
through our constant high level of service and dedicated employees.
Contact us now or call 847-299-0406 to set up a consultation with our landscape sales representative.
Serving the northwest suburbs including Arlington Heights, Glenview, Mount Prospect, Park Ridge, Prospect Heights, Northbrook, Niles, Skokie, IL.